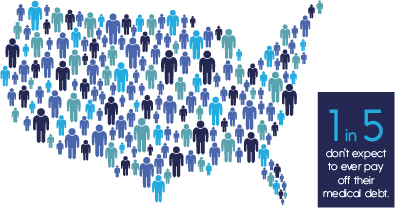 Last year, the U.S. took a big step in healthcare by enacting the federal hospital price transparency rule under the Consolidated Appropriations Act. This rule went into effect in January 2021. It requires hospitals to publicly post their standard rates for items and services in machine-readable files and provide a consumer-friendly display for at least 300 shoppable services. Before the transparency rule, a consumer did not know the cost of medical treatment until after the services were rendered. And as we know, medical debt is a big concern in the United States. According to the KFF Health Care Debt Survey, more than half of U.S. adults report they've gone into debt because of medical or dental bills, and about 1 in 5 said they don't expect to ever pay it off.
The transparency rule makes it easier for consumers to shop around and compare prices across hospitals in order to estimate the cost of care before going to the hospital. It puts healthcare pricing information directly into consumers' hands, ensuring they are empowered with the information they need to make informed healthcare decisions.
The Centers for Medicare & Medicaid Services (CMS) is responsible for enforcing the Price Transparency Rule. When the rule came out, the CMS laid out its action plan to ensure compliance, which included evaluating any complaint made by an individual or entity, reviewing individuals' or entities' analysis of noncompliance, and auditing hospital websites.
Typically, they will first provide a written warning to the hospital and request a Corrective Action Plan before a civil monetary penalty is issued. Currently, they have two reported penalties on their website, but they are pretty hefty ones. The minimum penalty is $300/day for hospitals with 30 beds or less and a penalty of $10/bed/day for hospitals with 30+ beds. However, the penalty will not exceed a maximum daily dollar amount of $5,500. Since the Medicare OPPS final rule went into effect, hospitals can be liable for up to 2 million in penalties if they fail to comply.
The CMS has provided guides on how hospitals can provide machine-readable files and consumer-friendly displays on their website.
Since the rule went into effect over a year ago, we are only seeing that about 14% of the 1,000 hospitals reviewed fully comply with the transparency rule, according to a report published by PatientRightsAdvocate.org in February 2022.
So, hospitals need to start cracking down to avoid hefty penalties. Stay tuned as we learn more!