The Medcom Bridge is our online Compliance platform for our broker clients and our Compliance team. The platform intends to streamline the process of ordering Compliance services for brokers. So, instead of getting lost in the email thread you can order, check on, and receive your Compliance documents all in one space! The Bridge has many functions, from requesting a proposal, to uploading documents to the document vault, to getting an instant Compliance checklist for your client! The Medcom Bridge offers many services and we are consistently updating the site to make it as clear and user friendly as possible. If you have any questions about the Bridge or would like to start today with your own account, contact us at bridge@medcombenefits.com.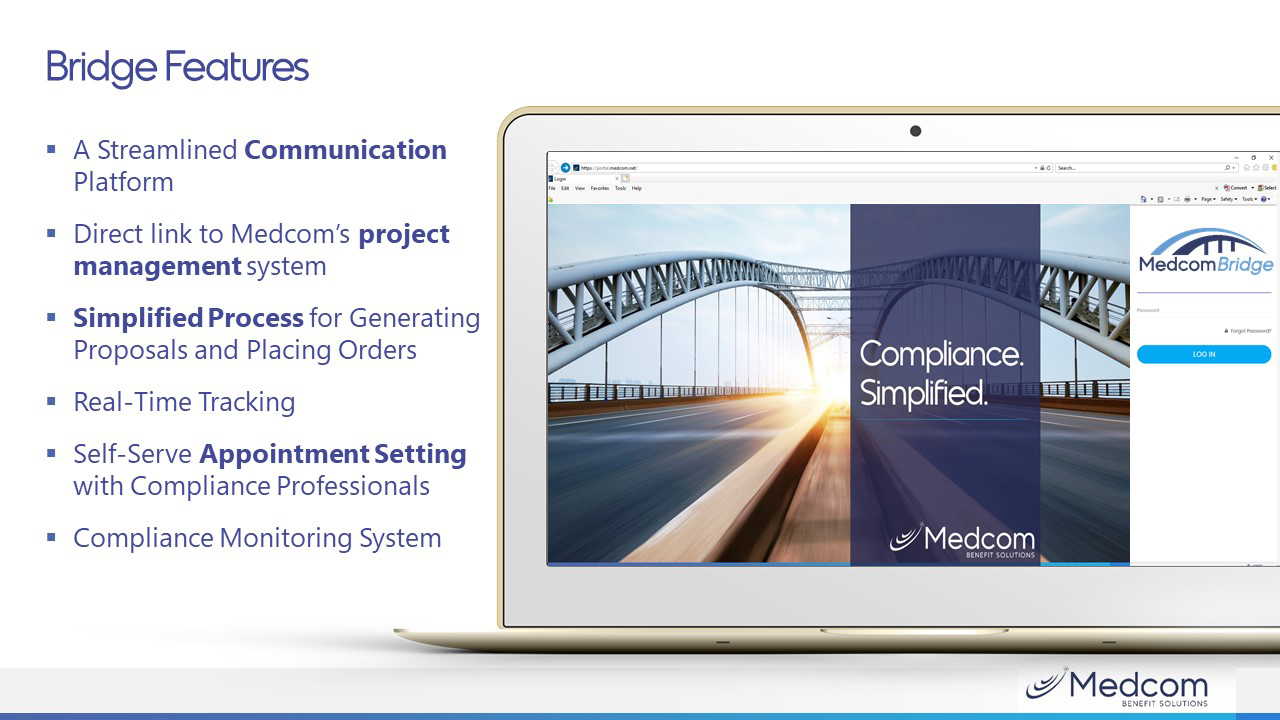 We offer specialized Bridge Demos for groups and individuals that are just starting out with the Bridge or would like to learn more. These demos can focus on a specific topic, like ordering a 5500 or how to upload a datasheet, but we also do many demos that act as a general overview of the site and will help you and/or your team become more familiar with the site.
The Demo
When we are giving a demo, they follow a formulaic order, but we can cater them to you and your team's needs.
Introduction First, whoever is leading the demo will introduce themselves and meet everyone on the team or the individual that requested the demo. Demos are typically given by Derek Ashton or Mallory Hopkins.
Background Next, a short presentation is given that reviews what the Bridge is, what it's intended for and how you can utilize it. We also go over how our Compliance team utilizes it so you can get the whole picture. We go over scenarios in which the Bridge can be utilized to the fullest and go over specialized features like the Document Vault and our Compliance Checklist. The Document Vault is a safe online vault that allows you to upload your client's documents and information, all on the Bridge, so our Compliance team can access it and no one else. The Compliance Checklist is generated after a 30 question survey is taken. You answer those questions with your client and the Checklist reviews what your client's next steps should be in order to be fully compliant.
Live Demonstration Now, we will go through the actual Bridge site and break down each menu item, show you around, and show where all of the special features are located. We will show you how to do the most common functions with examples. If this is a general overview of the Bridge, this part will be very thorough. If we're answering a couple of questions or have a specific topic to cover, this section will be brief.
Questions and Special Topics Lastly, we cover any special topics that had been identified before the demo if there are any and, of course, answer any questions anyone has and review anything that is asked to be reviewed.
The Bridge team can customize the demo to you or your team's needs. We also offer you as many demos as you need and are a simple email or phone call away. The platform is meant to make things easier for you, so we are always open to suggestions. If you have any questions about the platform or want to go ahead and schedule your demo, contact us at bridge@medcombenefits.com. The Bridge platform can be found at https://portal.medcombenefits.com/.