We are at that inevitable time of year again where we all set goals for ourselves, our families, our businesses to become better, more healthy, or more profitable. I struggle each year with setting achievable personal goals without allowing the self-doubt to creep into the back of my mind and defeat me before I even start. It goes about the same way for my professional goals as well. The struggle is real and it is everywhere. The bottom line though is that we'd all like to make improvements personally and professionally, no matter the time of year. Many of us have the drive, but simply lack direction on where to focus our goals and how to achieve them. I may not be able to help you personally, but I would like to help make things easier professionally in 2021. If you are an insurance broker looking for ways to simplify your services for clients, or an employer looking for ways to retain talent in a tough job market, Medcom has ways we can serve you. Our thorough employee benefits offerings have something for every broker and employer.
2021 is a blank page, so let's start crafting a new story full of expertise, guidance, training, exceptional benefit offerings, and most importantly, SUCCESS!
2021 Compliance Solutions
Health and Welfare Compliance is so complicated. I can't even begin to understand the complexities regarding requirements for employers and companies. Medcom has a long list of solutions for our partners and employers, but this isn't a sales pitch! I am here to show you that we have to tools to make your life easier! One of the ways we do that is access to the MedcomBridge. The Medcom Bridge operating system allows brokers and benefit consultants the ability to manage all their compliance demands in one place. Do you need to schedule a Compliance Checkup? Use the Bridge! Do you need a new Pop Document for ABCEmployer? Request it in the Bridge! Need to contact a dedicated account manager to clarify what needs to change in your PLan Documents due to COVID? Reach out through the Bridge.
MedcomBridge is the place to be! With scheduling calendars, document request forms, training library, online bill-pay capability, and a global inventory system there isn't much the Bridge doesn't offer. We are even set up to give you a personal, one-on-one, demo. All you have to do is reach out to bridge@medcombenefits.com. Consider your Compliance goals for 2021 ACCOMPLISHED!
2021 ACA Reporting Solutions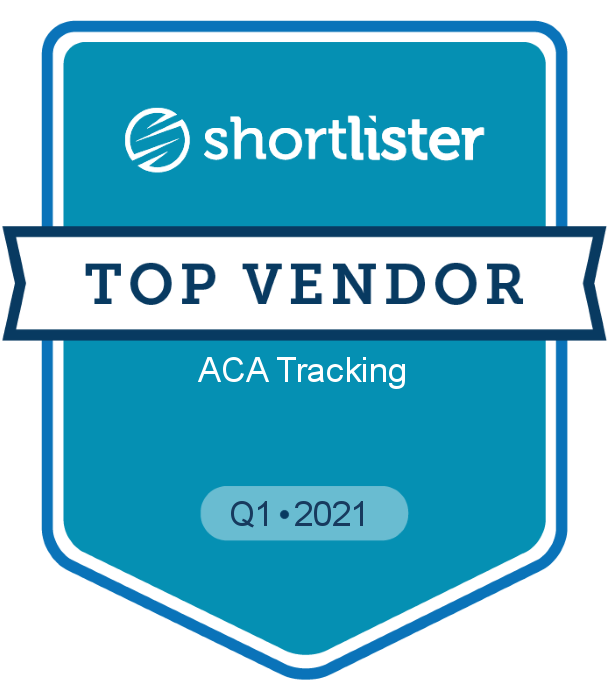 Have you heard that our Affordable Care Act department was recently recognized for THREE Shortlister top badges!? Not only did we receive an award for Top ACA Reporting Services, but we were also recognized for our ACA Tracking Solutions and our ACA Reporting Software. However, if that isn't enough to convince you to reach out to Medcom about ACA, how about this: in the last five years, Medcom Benefit Solutions has saved employers MORE than $45 MILLION in proposed penalties from the IRS! We step up for you. We fight the fight so you don't have to, and in most cases, we are able to eliminate or reduce the fees assigned by the Internal Revenue Service. We are very proud of our team of experts, so please forgive our boastful attitude.
Oh, and adding to all that, our ACA team along with our IT developers, created an amazing new Employer reporting platform for our clients. ACA Connect allows all our clients to stay connected with their account manager, upload materials directly into the system, answer questions electronically, and monitor the status of your filings! I mean, if that doesn't take the cake... Learn more about ACA Connect by watching our recent webinar or by contacting Tom Neal, our ACA Sales Team expert!
2021 Consumer Driven Health Plan Solutions
Yes, we understand that you probably already offer some of the more standard employee benefits to your team. FSAs, HSAs, HRAs, Dependent Care, and Commuter Benefits are a very strong part of Medcom's benefit family, but we haven't stopped there! We understand the struggle of retaining talent. Jobs are in high demand but so are benefits that go beyond the traditional offering. That is why Medcom is partnering with multiple companies so you can bring MORE to the table for employee benefits.
Our Health Advocate partnership provides employers with additional solutions for employees such as:
Answers to FSA, HSA, HRA questions
Assistance with appointments
Explanations of benefits
Help with resolving billing issues
Provider negotiations
and a lot more!
Health Advocate gives brokers and employers a leg-up on the competition by improving employee health and increasing satisfaction and retention rates.
Our most recent addition to the CDHP family of solutions is our Financial Fitness Education program for employees. This program
provides HSA and HRA participants with personalized financial literacy training and tools to help them better understand their spending and saving habits. Financial Fitness, powered by Enrich, educates employees with webinars, videos, articles, calculators, budgeting tools, and personalize classes and course recommendations. It is simply a tool that cannot be beaten. Medcom understands that a stressed employee is an ineffective employee. That stress is not their fault nor the employers, but we can all join together as a team to help destress our workforce.
Medcom offers both Health Advocate and Financial Fitness to our team members and we can personally say that it works! Reach out to our CDHP and Enrich guru, Katie Johnson to learn more about Medcom's additional offerings.