As a local leader in sustainability and an Earth Charter Partner, we want to talk about an upcoming course offered by Earth Charter International on Education for Sustainable Development (ESD). This program is implemented under the UNESCO Chair on Education for Sustainable Development with the Earth Charter.
Who Should Register?
This Certificate Program is aimed at K-12 teachers, education professionals, and academics in different areas and levels of education (formal and non-formal education settings).
What is the ESD Course?
This course aims to provide participants the opportunity to deepen their understanding, knowledge, and skills in order to integrate Education for Sustainable Development and Education for Global Citizenship into classrooms, schools, and curricula. This program also contributes to implementing the Sustainable Development Goals, with a specific focus on SDG 4, target SDG 4.7.
Where?
This program is entirely online! So, we welcome all who can join to register.
When?
This course will begin on January 18 and run through June 2023. It is a six-month program that includes four courses plus seven seminars (one session per week).
Why Should I Register?
For this program, the Earth Charter (EC) is used as a central feature of this approach, unlike most sustainability-related programs. The EC provides a broad, inclusive, and powerful values-based orientation that can be infused within the missions and purposes of most educational programs. The methodologies introduced in this program can be applied across all curricula and grade levels. Being an online course also offers flexibility for participants, so they may carry out the coursework when convenient.
Still not convinced? Check out the testimonials below from previous participants from all over the world!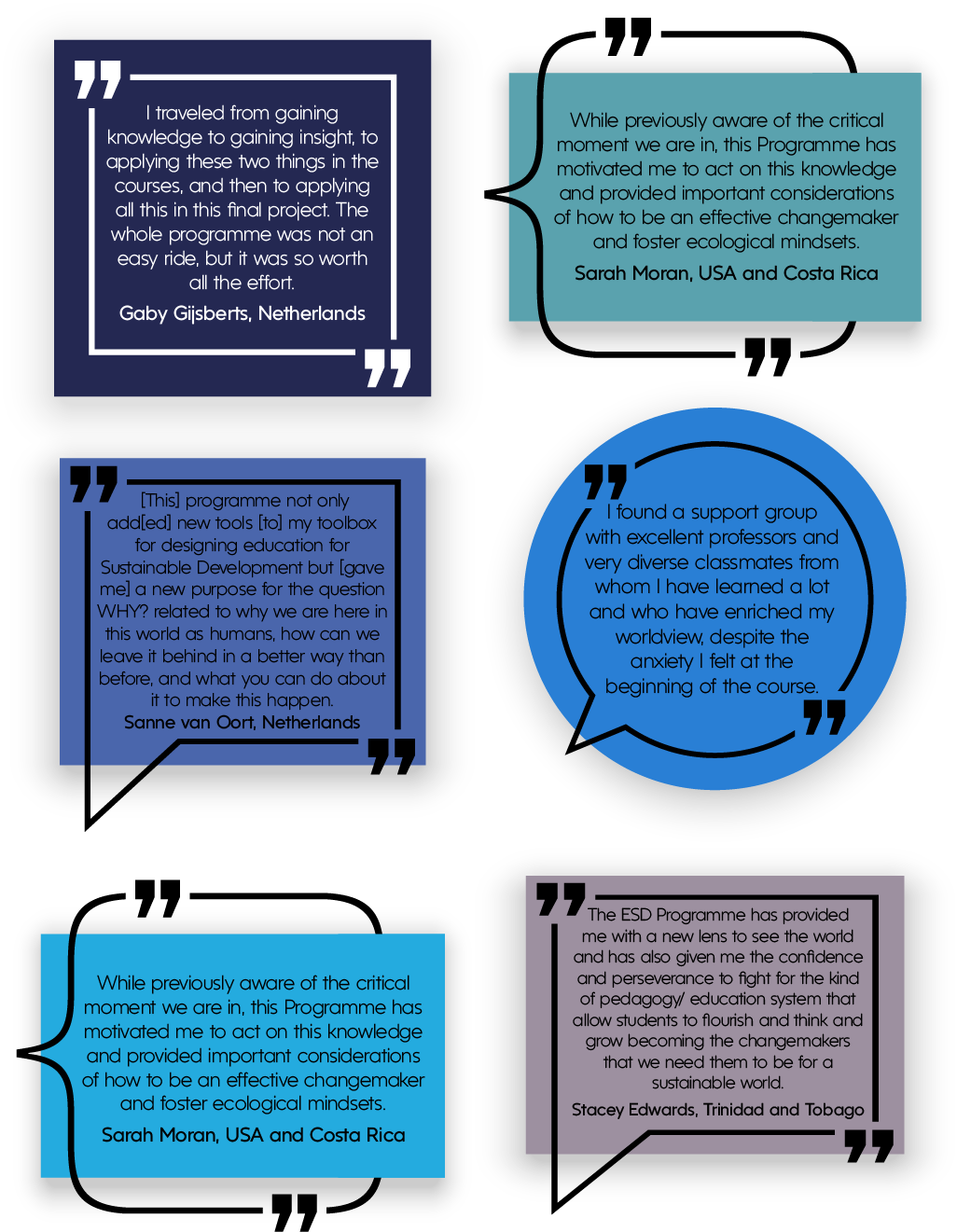 How much?
$1,300 (fee includes access to the online platform, materials, and certificate) made by credit card, PayPal, or bank transfer.
If you pay by December 2, 2022, you will receive a 10% early bird discount. In addition, Earth Charter offers a 30% discount for groups of three or more. There are also flexible payment plans available for this course. For questions regarding payment, contact apply@earthcharter.org.
After the Course
Participants who complete this Online Program will receive a Certificate on ESD and be invited to join the Earth Charter Educators Network and to become a Verifier of the Earth Charter & ESD School Seal. Successfully completing this program involves completing all courses, meeting basic course requirements, implementing the final project, and presenting a report.