We are halfway through June, which is also Great Outdoors Month! Because we need no less than a month to celebrate the outdoors and encourage everyone to head out and enjoy the natural world.
We've all heard that getting up and getting outside is good for not only our physical health but our mental health as well. But let's get into the specifics of 'why?' you should head outside.
Why?
1. Restore Your Mental Energy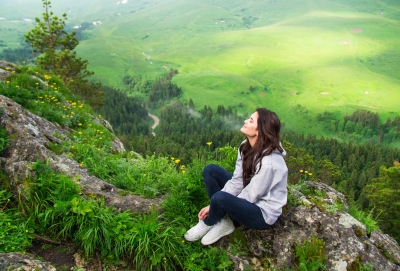 Wishing you could replenish your mental energy reserves? Head outside! Research has found that the great outdoors is a restorative environment for our minds.
2. Relieve Stress
We could all use some of this. A study found that students who spent two nights in the forest had lower cortisol levels, the hormone often used to measure stress.
3. Reduce Inflammation
Students in a study showed lower levels of inflammation after spending time in the forest than students who spent time in the city.
4. Improve Vision
Who doesn't want to see better? Research in children has found that outdoor activity may have a preventative effect on the development of nearsightedness.
5. Improve Concentration
In the information age, we all struggle to focus on one thing at a time. Studies have found that just 20 minutes in a park can help kids with ADHD concentrate better.
And the list goes on and on!
More National Days are scattered throughout the month to celebrate certain sects of outdoor recreation, so if you're headed outside, what will you do?
What?
National Trails Day, June 4th
The Great American Campout, June 25th
National Marina Days, Summer 2022

This is a nationwide event to bring together boating and marina communities
However you get out there, make sure you're taking the time to appreciate all of the natural beauty around you, de-stress from your work day, and consider a world where you aren't able to simply step outside and enjoy it. Along with enjoying the outdoors, we want to work to preserve those spaces. As an Earth Charter partner, Medcom employees are encouraged to not only get out there but also consider what it takes to conserve these natural spaces. Reach out to us at earthcharter@medcombenefits.com today to learn more about how we can work together to keep the outdoors wild.