Last week, our senior legal counsel Michelle Barki and our ACA sales expert Tom Neal led a webinar on a new tool we've developed to complete ACA reporting requirements all in one place. It is becoming increasingly important for employers to file and furnish 1094-C and 1095-C forms since the end of good faith relief in the 2021 tax year and the increase in penalties.
Are your clients ACA ready? The IRS is showing no mercy in assessing penalties for failure to file and furnish, and that's where Medcom comes in! Check out some penalties our team of experts recently appealed: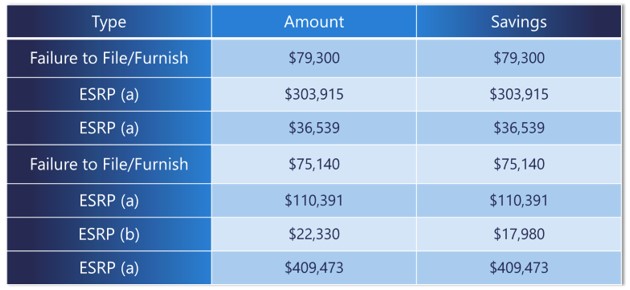 The confusion around these forms and with many forms still being filled out incorrectly led us to create ACA Connect. Medcom has streamlined the process, so employers understand where they stand with their filings. This platform gives employers more control over the forms and provides assurance that forms are being filed correctly and on time.
Brokers and employers will each get their own login with access to unique features tailored to their role. ACA Connect is a web-based system, so you will have around-the-clock access to these features and more!
Securely send & receive data files
View specific charts by EIN
View current step in the process & percentage of completion
Review 1094 & 1095 forms by specific categories
View specific employees per category
Generate reports
Live countdowns to important deadlines
Calendar access to schedule calls with your Account Manager
Access to a resource library of helpful documents, demo videos, user guides, & other important information from Medcom
Online approval for mailing and e-filing
Request proposals
Line 14 & 16 code descriptions
Review flagged employees
View past-due clients
We know change can be scary, so we want to stress that this new platform does not take away the hands-on personal service Medcom prides itself in, as you will still have access to your dedicated account manager outside of ACA Connect. We have developed this as a tool for you and your clients to save the time and stress involved in ACA reporting.
Transitioning into ACA Connect is a simple process. However, we will be there every step of the way, starting with an implementation call to activate your account, walk you through the features, and answer any questions you may have.
If you are a client with Medcom, your dedicated account manager will reach out to you to get your account set up once the app is ready to roll. For any other questions, feel free to contact our ACA sales expert, Tom Neal.
And as always, stay connected with us via LinkedIn, Facebook, and Twitter on all the latest news and updates from Medcom.